Armenian artist paints through anxiety of 9/11​
The concept of freedom has intrigued Shanoor Devarj ever since it was threatened by the September 11 terrorist attacks.
"Nine-11 gave us all a slap to wake up," said the Munster painter. "The art I'm doing right now, the basis of it comes from surrealism and anxiety."
One of the red-white and blue-streaked pieces called "Tranquil" reflects his difficulty accepting the fact that two airplanes destroyed the World Trade Center. "I could not stand the fact that those huge (buildings) would come crumbling...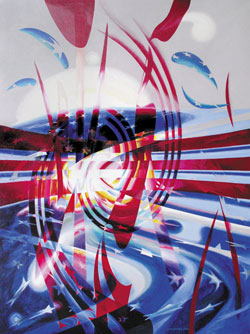 By Carolina Procter - Post Tribune staff writer​
Opening of "The Color of Freedom" by Artist Shanoor Held at Shimmery Gallery - 2006
The opening of artist Shanoor's art exhibition was on Saturday April 22, 2006 at Shimmery Gallery, Munster Indiana. "The Color of Freedom" is a collection of twenty-eight paintings and prints currently being exhibited. The exhibition will be on display at the Shimmery from April 22 till May 22 2006.
Munster, Indiana (PRWEB) April 30, 2006 -- Shanoor has created an incredible body of work that is a tribute to this nations dreams and aspirations! Shanoor's latest visual tribute to freedom has impacted on all who view his work.
"Tranquil" Acrylic Painting '02​
Shanoor received William J. Bachman prestigious award through the 60th annual SALON SHOW at the Center for Visual and Performing Arts, Northern Indiana Art Association.
The MCA juror Mr. Michael Rooks selected only 45-50 artworks out of 400 entries of which three are Shanoor's paintings.
The opening of the show was Sunday September 7th through
November 23, 2003​
Shanoor at the salon show
Like many artist, the terrorist attacks had a profound impact on Shanoor's work. "Other than the horrific event itself, what it did was made me sad," he said. "It brought the human factor down into animal factor. I thought a better way to come out of this was, as an artist, to say that we are all the same."
More than 20 of the artist's works, on display at the Atrium Gallery of Wesemann Hall on the campus of Valparaiso University, will be the focus of a lecture given by Shanoor on Thursday. Presented by the university's college of law, Shanoor's discussion regarding his exhibit, "Toto Coelo - Extreme Conditions," is scheduled for Thursday at 4p.m.​
"Triumph of the Human Spirit" Acrylic on Canvas '01
After the tragic events of September 11, the Chicago artist Shanoor was compelled to find a way to express his outrage and anger at the arrogance of the terrorist attacks. Shanoor began an impassioned exploration into national solidarity by embracing the strong symbolism of the American flag. With a strong graphic urgency Shanoor expresses his joy, grief, hope, strength and powerful feelings for unity using both traditional media and digital manipulation of the American flag. "Ascent," "Implosion," "Guiding light," "Target Freedom," and "Triumph of the Human Spirit," titles of a few of the paintings and prints, are evidence of the profound nature of Shanoor's meditation on freedom.
"Celebrate Freedom" paintings and prints by artist SHANOOR will be exhibited at Boarders on Michigan Avenue across from WaterTower starting September 2nd through October 31st, 2002 to commemorate September 11. Collectors, Individuals, Galleries, Organizations and Corporate Investors are welcome to view the show.
​
"Freedom Light" Acrylic on Canvas '02
Commemorate 9/11 at Borders on Michigan Ave​
Artist explores the post-9/11 universe by Tim Shellberg​
Chicago Artist Shanoor Captures The Spirit of This Nations Dreams Through "Celebrate Freedom" Paintings​